8 Antenna 5G 8W Jammer 5G 4G LTE 3G WIFI GPS L1 up to 30m



Click to enlarge

Price:

$370.00

$270.00

Availability:
In Stock
Model:
CT-1088-5G Eur/A
Manufacturer:
Jammers4u
Average Rating:
Not Rated



CT-1088-5G 8 Antenna 8W 5G 4G LTE 3G WIFI GPS L1 Jammer up to 30m

New 5G high tech Jammer blocker with very popular specification 8 antennas up to 30m. Jamm 3G 4G LTE 5G Mobile Phones and 2.4Ghz Bluetooth WiFI. In Europe new 5G frequencies are 3400-3800MHz (most 5G is this freq), 758-790MHz and 1450-1500MHz (some countries did use this new freq like German,Italy,Netherlanders, Switzerland, UK). In America new 5G freq is 617-652MHz.

8 Bands 8W with Ni-Mh battery 8000mAH Work 3 Hours +
Support use while battery charging
110/220V and 12V Car Charger
Temperature Lower than 45℃
Each Band can Turn ON/OFF
1 Ver CT-1088-Eur-5G GSM 4G 5G WiFi
758-830MHz:1.0W 5G, 4G LTE Low
920-965MHz:1.0W GSM900
1800-1920MHz:1.0W 2G, DCS
2100-2170MHz:1.0W 3G, UMTS
2400-2500MHz:1.0W WiFi 11.b & g
2570-2690MHz:1.0W 4G LTE High
1450-1620MHz:1.0W 5G GPS L1 + Glonass L1
3400-3800MHz:1.0W 5G
Total: 8.0W

2 Ver CT-1088-A-5G Cell 4G 5G WiFi GPS L1
850-895MHz:1.0W CDMA 850
1800-2000MHz:1.0W 2G, DCS, PCS
2100-2170MHz:1.0W 3G, UMTS
2300-2500MHz:1.0W 4G LTE + WiFi 11.b & g
2500-2700MHz:1.0W 4G WiMAX Sprint
700-800MHz:1.0W 4G LTE USA iPhone (AT&T & Verizon)
1570-1620MHz:1.0W GPS L1 + Glonass L1
617-652MHz:1.0W 5G
Total: 8.0W
Jamming range : Radius 3 to 30 Meters

The jamming distance always varied depend on the signal strength and location.
Battery: Ni-Mh battery 8000MAh Works time: 3.0 hours +

High output power : 1W per band, in total 8W
Each band can turn ON/OFF without influencing the other bands operation
Good cooling system with heat sink and fan inside, tem lower than 45℃
Can support use while battery charging
Support Powered by car cigarette charger
All the TX frequency covered down link only
Power supply:50/60Hz/AC 100 ~ 240V to DC 12V
Dimension: 152 x 80 x 41mm not include antennas
Weight 1 Kg
Package contents:
1pc Portable Signal Jammer
1pc AC Charger
1pc Car Charger
8pc Antennas
1pc Holster
Additional Carry case
in order options,
size 335 x 260 x 130mm 1.2kg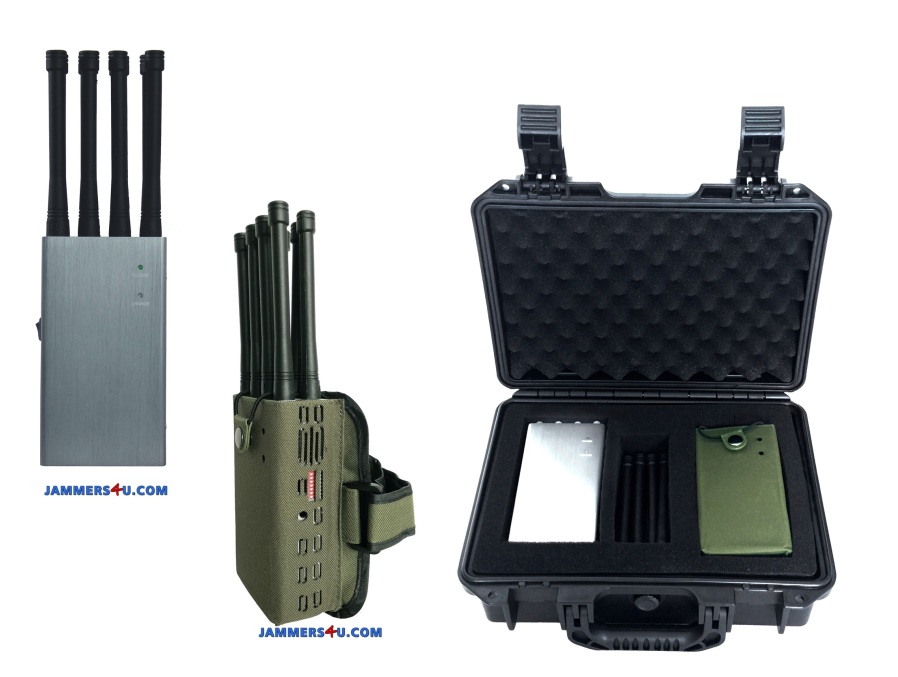 1 Year warranty, Neutral packing, OEM Manufacturer :
R&R GROUP INTERNATIONAL

E-mail:
[email protected]
http://www.jammers4u.com
Write Review
Your Name:
Your Review:
Note:

HTML is not translated!
Rating:
Bad
Good
Enter the code in the box below: