DDSCT-8028 Portable Convoy Pelican 8 bands 590W RCIED Bomb Jammer up to 1km



Click to enlarge

| | |
| --- | --- |
| Price: | $0.00 |
| Availability: | In Stock |
| Model: | DDSCT-8028 |
| Manufacturer: | Jammers4u |
| Average Rating: | Not Rated |



DDSCT-8028 Portable Convoy Pelican 8 bands 590W RCIED Bomb Jammer up to 1km
Military/Police/Government/Convoy Jamming Portable RCIED Mobile Phone Pelican Jammer
Applications : Anti-terror units, Bomb squads, VIP protection, Convoys protection, Military forces, SWAT teams, Police forces, Anti-drug units, Riot-control units, Embassies protection, Roadblock protection, Checkpoint protection
DDSCT-8028A ( 8 Bands )
1. DDS 20-100MHz 100W Civil Remote Control Toys,
2. DDS 100-500MHz 100W VHF/UHF, Walkie-Talkie, 350MHz TETRA, RC Devices,
3. 920-965MHz 100W GSM 900
4. 1800-1880MHz 100W DCS GSM 1800 2G
5. 2100-2170MHz 100W 3G UMTS
6. 2620-2690MHz 30W 4G LTE & WiMax
7. 2400-2500MHz 30W WiFi & Bluetooth
8. 1520-1670MHz 30W GPS L1, SAT Cell Phone
(Option) 5.0-5.5GHz 10W, 5.5-6.0GHz 10W WiFi 11.a
TOTAL: 590W

DDSCT-8028B ( 8 Bands )
1.DDS 20-100MHz 100W Civil Remote Control Toys,
2.DDS 100-500MHz 100W VHF/UHF, Walkie-Talkie, 350MHz TETRA, RC Devices,
3.850-895MHz 100W CDMA 850/900
4.1920-1990MHz 100W PCS CDMA 1900
5.2100-2170MHz 100W 3G UMTS
6.2620-2690MHz 30W 4G LTE & WiMax
7.2400-2500MHz 30W WiFi & Bluetooth
8.1520-1670MHz 30W GPS L1, SAT Cell Phone
(Option) 5.0-5.5GHz 10W, 5.5-6.0GHz 10W WiFi 11.a
TOTAL: 590W
Portable Briefcase RCIED ,Briefcase Jammer is a wide-band portable jamming system, designed for the protection of VIP's and groups of people from radio controlled improvised explosion by disabling the radio exploder control lines in dangerous areas and for the prevention of leakage of information through intercepting units during confidential talks. Briefcase Jammer transmits RF interference and creates a "Radio Frequency Protected Zone" around the object that prevents remote controlled bomb activation by various RF means in its vicinity with a sufficient jamming safety radius, in order to save lives and prevent serious injuries. This jammer model can be customized as per the user requirements.
Jamming Range: 500-1000 meters@-75dBm
Total RF output power: 560W (Adjustable output power for each band)
8 Bands Jamming range: Radius 500-1000 M ( the signal must <-75dB in the location )
Power supply: AC adapter (AC220V-DC27V or 24V/ 60-70 Amp)
Stand-alone modular design and individual power control.
Adjustable Output Power each Band/Channel
Remote Control by wired 5 Meters Cable
VSWR over protection for each modular.
Working status indicator for each band modular.
Dimension: 860mm(L)×620mm(W)×690mm(H)
Weight: 75 Kg (approximately) just main unit not included antenna & all accessories
Operating temperature: -20℃ ~ +60℃
Humidity: 5% ~ 90%
Antennas Spec:
850-960Mhz : Omni 5dBi, 650mm, 0.8Kg
1500-1600Mhz : Omni 5dBi, 650mm, 0.8Kg
1805-1990Mhz : Omni 5dBi, 650mm, 0.8Kg
2000-2200Mhz : Omni 6dBi, 650mm, 0.8Kg
2400-2500Mhz : Omni 7dBi, 650mm, 0.8Kg
2600-2650Mhz : Omni 7dBi, 650mm, 0.8Kg

Additional Military type antennas with vehicle frame, spec in PDF - USD$2400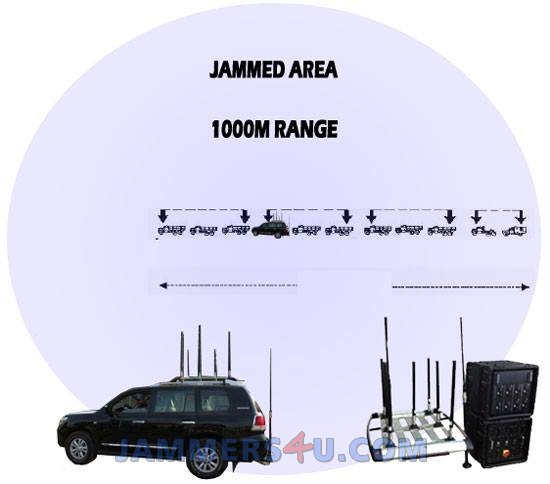 1 Year warranty, Taiwan quality made in Hong Kong
R&R GROUP INTERNATIONAL
Taipei Taiwan, Hong Kong, Dubai UAE

E-mail:
[email protected]
http://www.jammers4u.com
Write Review
Your Name:
Your Review:
Note:

HTML is not translated!
Rating:
Bad
Good
Enter the code in the box below: