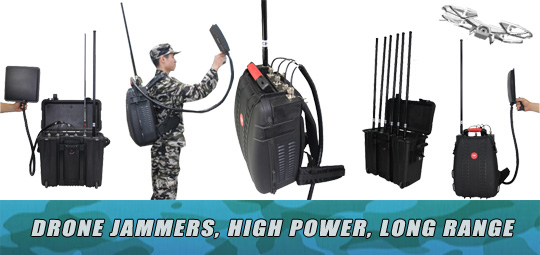 Anti-Drone UAV Jammers

UAV Quadcopters and drones are becoming a nuisance and can compromise your privacy as they are becoming cheaper every day and more available. We carry a specialized range of jammers designed to distrupt remote control (RC) of a drone/quadcopter or its gps signal and most of them will automatically slowly ground itself. Drones can be more than just an annoyance. Because they can reach high into the air, on the ground, and in the water, drones literally add a new dimension to eavesdropping and spying on facilities, individuals and infrastructures in a wide variety of environments and industries. They have the power to shrink the realm of public safety, privacy and physical security. Few other technologies have this much power. Are drones spying on you? Stealing your top secrets? Watching your movements? Exposing your contacts? Drone laws remain ambiguous worldwide and it will take governments years to set limits on the ways in which drones can be used. Drones can even be used as a explosives carrier or as a terrorist propaganda on a mayor aired sports and cultural events.
Most of high end commercial 3-5km UAV Drones/Quad-copters use only 2.4Ghz WIFI and GPS L1. All others 5.8Ghz, 433mhz, 928Mhz can control 500-1000m max.
Jammers4u offers proven quality wireless technology equipment tested in many projects, and guarantee you reliable operation and stability. Worldwide delivery via DHL, export and wholesale prices.
E-mail: [email protected] Skype ID : Senaosales1

CT-2460-UAV Drone Quad-copter 2.4Ghz WIFI GPS L1 12W Jammer up to 120m


CT-2460-UAV Drone




$250.00




CT-2085-UAV Drone Quadcopter 16W Jammer up to 150m


CT-2085-UAV Drone




$680.00




CT-2085B UAV Briefcase Quadcopter Drone Jammer up to 150m


CT-2085B-UAV




$1,180.00




CT-3047-UAV Anti-Drone 4 bands 2.4Ghz 5.8Ghz GPS L1 82W Jammer up to 600m


CT-3047-UAV 4 Bands




$1,450.00




CT-3060N-UAV Drone RC 6 bands 127W 433Mhz 868Mhz 2.4Ghz 912Mhz 5.8Ghz GPS L1 Jammer up to 600m


CT-3060N UAV Drone Jammer




$1,650.00




CT-3076B-UAV Anti-Drone High Power 132W Jammer 6 Bands up to 1000m


CT-3076B-UAV Anti-Drone Jammer




$5,500.00




CT-3076B15W-UAV Anti-Drone High Power 142W Jammer 6 Bands up to 1500m


CT-3076B15W Anti-Drone Jammer




$7,500.00




CT-4035-UAV Menpack Directional Antenna Drone UAV 107W 5 Bands Jammer up to 1000m


CT-4035-UAV




$5,900.00




CT-4035H-UAV Menpack Directional Antenna Drone UAV 120W 5 Bands Jammer up to 1500m


CT-4035H-UAV 120W




$7,800.00




CT–3040-OMN UAV Drone remote controls 2.4Ghz GPS L1 5.8Ghz 433Mhz 112W Jammer up to 800m


CT–3040-OMN UAV Drone Jammer




$3,200.00




CT–3050-OMN UAV Drone 5 bands remote controls 2.4Ghz GPS L1 5.8Ghz 433Mhz 900Mhz 137W Jammer up to 800m


CT–3050-OMN UAV Drone Jammer




$3,400.00




CT–3060-OMN UAV Drone 6 bands remote controls 2.4Ghz GPS L1 L2 5.8Ghz 433Mhz 900Mhz 147W Jammer up to 800m


CT–3060-OMN UAV Drone Jammer




$3,600.00




CT–3040 UAV Drone remote controls 2.4Ghz GPS L1 5.8Ghz 433Mhz 82W Jammer up to 1000m


CT–3040 O UAV Drone Jammer




$3,000.00




CT–3060 UAV Drone 6 bands remote controls 433 868Mhz 2.4Ghz 5.8Ghz GPS L1 127W Jammer up to 1000m


CT–3060 O UAV Drone




$3,400.00




CT-3076-HGA Anti-Drone UAV Jammer 6 Bands 128W up to 3000m


CT-3076-HGA Anti-Drone UAV Jammer




$3,400.00




CT-3077-HGA Anti-Drone UAV Jammer 7 Bands 178W up to 3000m


CT-3077-HGA Anti-Drone UAV Jammer




$4,200.00




CT-3076B-HGA Anti-Drone UAV Jammer 6 Bands 128W up to 3000m


CT-3076B HGA Anti-Drone UAV Jammer




$5,800.00




CT-3077B-HGA Anti-Drone UAV Portable Jammer 7 Bands 178W up to 3000m


CT-3077B-HGA Drone UAV Portable Jammer




$6,800.00




CT-24100G UAV Drone High Power 140W 2.4Ghz GPS Portable Case Jammer up to 4000m


CT-24100G GPS 2.4Ghz 140W




$5,800.00




CT-6067-UAV Drone 6 bands High power 515W Portable Pelican case Jammer up to 4000m


CT-6067-UAV Drone Jammer




$12,300.00



Showing 1 to 20 of 20 (1 Pages)