8 Band Antenna Portable 800W Portable Jammer up to 1km



Click to enlarge

| | |
| --- | --- |
| Price: | $0.00 |
| Availability: | In Stock |
| Model: | CT-6080 |
| Manufacturer: | Jammers4u |
| Average Rating: | Not Rated |



CT-6080 High Power Portable Pelican Case 8 bands 800W Jammer up to 1000m
High power 800W customized frequency jammer for project applications : Anti-terror units, Bomb squads, VIP protection, Convoys protection, Military forces, SWAT teams, Police forces, Anti-drug units, Riot-control units etc


CT-6080E Europe Mobile phones + WIFI + UHF/VHF ( 8 Bands )
920-965MHz: 100W GSM 900
1800-1880MHz 100W DCS GSM 1800
2100-2170MHz: 100W 3G UMTS
2620-2690MHz: 100W 4G LTE & WiMax
2400-2500MHz: 80-100W WiFi & Bluetooth
790-830MHz: 100W 4G Low LTE
136-174MHz 100W VHF
400-480Mhz 100W UHF
TOTAL: 800W



CT-6080A Cell phones + WIFI +UHF/VHF ( 8 Bands )
850-895MHz 100W CDMA 900
1920-1990MHz 100W PCS CDMA 1900
2100-2170MHz 100W 3G UMTS
2500-2700MHz 100W 4G LTE & WiMax
2400-2500MHz 80-100W WiFi & Bluetooth
700-800MHz 100W 4G Low LTE
136-174MHz 100W VHF
400-480Mhz 100W UHF
TOTAL: 800W

Frequency will be customized as per the user requirements in 8 bands. Options: 5.5-5.9Ghz, 5.7-5.9Ghz, 5.5-6.1GHz, 5.1-5.9GHz, 5.0-5.5Ghz 20W or 50W, Civil Remote Control Toys: 200-300MHz 100W, 300-400MHz100W: VHF 130-180MHz:100W, UHF 420-480MHz:100W, RC, Lojack, GPS L1 100W, L2 L3 L4 L5 etc.
Jamming Range: 500-1000 meters
The distance always varied depending on the signal strength, antennas and location.
Adjustable output power for each band
Power supply: AC adapter (AC220V-DC27V or 24V/ 45 Amp) or External Battery
Adjustable Output Power each Band, Stand-alone modular design and individual power control.
Temperature over protection. Working status indicator for each band modular.
Dimension: 626 mm(L)×492mm(W)× 350mm(H)
Weight: 45kg just main unit not included antenna & all accessories
Pelican 1620 Case Raining Proof, Operating temperature: -20℃ ~ +60℃
Humidity: 5% ~ 90%
Package contents:
1 main jammer
8 omni antennas 750mm long with spring
2 Antennas frame and cables 3m long
Additional Antennas options :
8 pcs Military Omni Antenna 6-8 dBi
( New model that can be connected directly to Case )
1 pc
Vehicle frame for Miltary Antennas
3 pcs HGA 3 Bands in one Direction Antenna
+ 1 pc HGA 2 Bands Antenna
External Battery in order option:
B-50AH 27V/50AH LiFePo4 Battery

Pelican Case 1440, 35kg Weight. Work 1-2 hours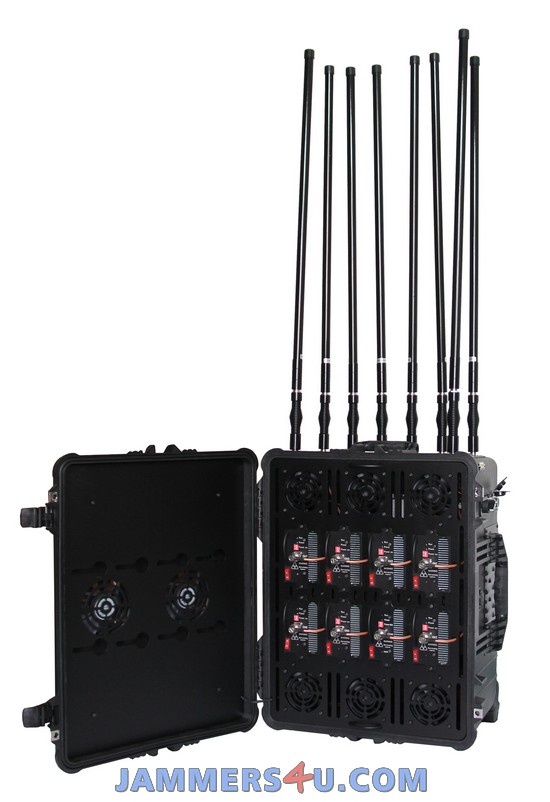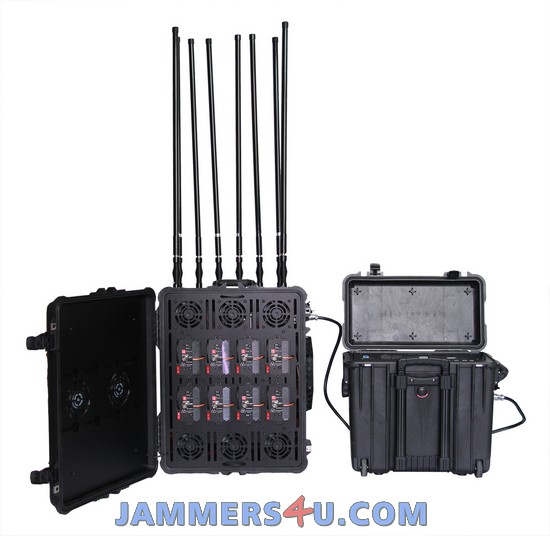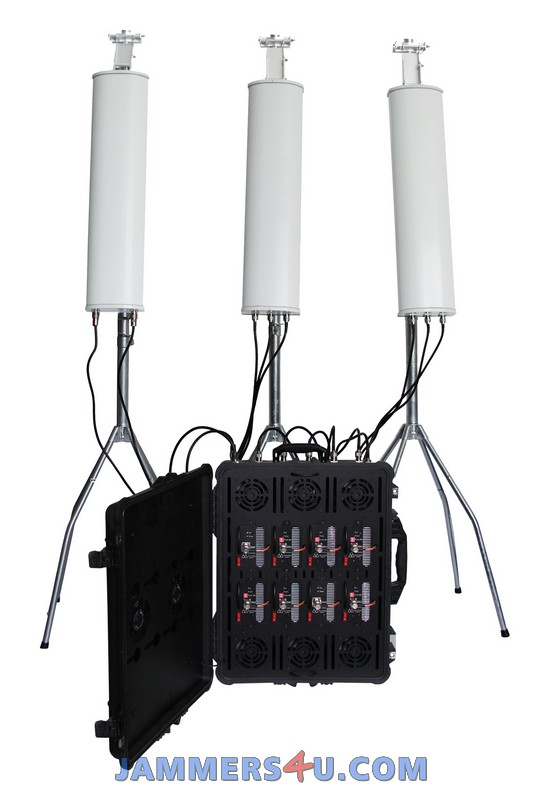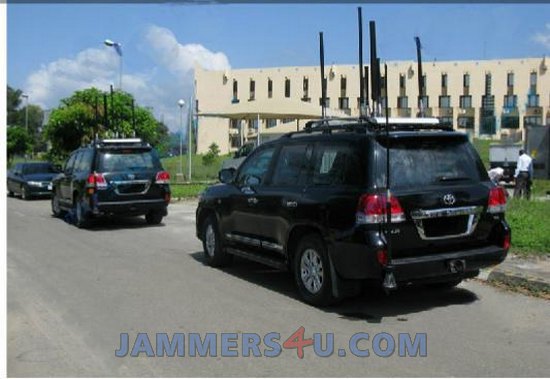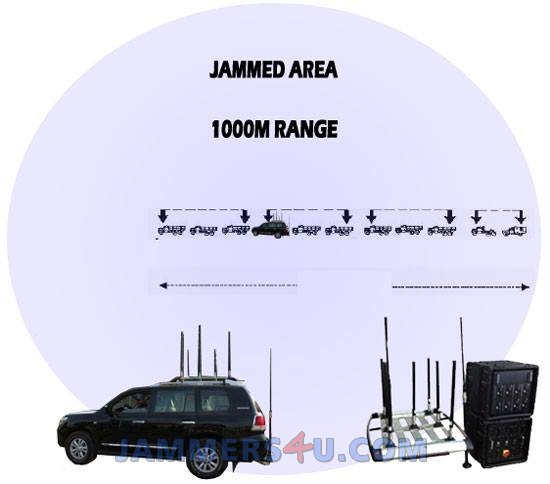 2 Years warranty, Neutral packing, OEM Manufacturer :
R&R GROUP INTERNATIONAL

E-mail:
sales@jammers4u.com
http://www.jammers4u.com
Write Review
Your Name:
Your Review:
Note:

HTML is not translated!
Rating:
Bad
Good
Enter the code in the box below: